20 of Our Tour Clients Have Won 30 Majors!
Our Competitive Amateur and Junior Golfers Have Won at Every Level!
Stop Defeating Yourself and Stop the Frustration!
You know you have the physical skills to play well.
We Can Help You Develop Your Mental Game for Competition.
With a Strong Mental Game You Will:
Perform Your Best in Competition
Increase Your Consistency
Hit it Longer and Straighter
Putt Better
Chip Better
Manage Your Emotions
Improve Your Focus
Start Your Rounds Better
Finish Your Rounds Better
Speed Up Your Improvement
Without a Strong Mental Game You Will Never Know How Good You Could Have Been
The Only TOUR Researched, TOUR Developed and TOUR Proven Mental Game Development Program in Golf

Hi! I'm Jon Stabler, CEO and Co-Founder with Dr. Deborah Graham of GolfPsych.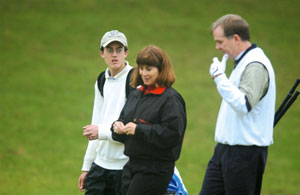 After over 31 years of Tour level research and work with over 380 Tour Pros and hundreds of competitive Junior Golfers, College Golfers, other professionals and avid amateurs,
We know how frustrating competition can be for you and your high goals.
We Know What Works and What Doesn't in Competition!
Our GolfPsych Program with all our Proven Methods and Proprietary Tools is delivered to you online and in person through our schools and individual coaching. Follow-up and continuing support is part of the program.
We guarantee to deliver all the benefits we listed above for your competitive game and more if you will give us a chance.
The first step is ASSESSMENT of your current Mental Game Skills and your Personality for Golf. You do this with two online Assessments, the first on your Mental Skills for golf and the second comparing your Personality to the 8 Champion Personality Traits we discovered through our research on the frequent winners on Tour. Both assessments produce reports with recommendations and methods for you to use.
Click on these pictures to get an idea of the results and reports produced for each.
Mental Skills Report
8 Champion Personality Traits Report
Along with these assessments we include your membership in our Online Coaching System for one year. The Online Coaching System includes tools for goal setting, preparing for your rounds, mental game scorecards to take on the course, and post round assessments to help you learn from your rounds.
Every time you fill out a Post Round Form, we get an email and can see what you have written. This enables us to support you better over time.
These three online products are combined into our Mental Game Builder Package to save you money and give you everything you need to move forward with our coaching or by yourself.
You can have these assessments and recommendations in one hour and start changing the way you think and play today!
Click Here to Take The First Step and save almost $50 from the individual prices with the Mental Game Builder Package!
The Second Step is COACHING in our small group Schools and individually. We are located in The Resort at Tapatio Springs, near San Antonio, Texas.
We Coach you individually in person and by phone with additional communications by texting and email. You can start over the phone after you have completed the Assessments, if you want to get started right away and cannot travel here immediately.
If you want to get started in the fastest, most effective way, then a personal visit is the best choice. Individual coaching is great but we also highly recommend our our small group school. Level I is 15 hours of intensive coaching, including over 6 hours on the course and range in one weekend!
This Level I Mental Game Builder School will get you started really fast. We only take four players in each School. You will get to use our proprietary Mind Meter all weekend and can purchase one at the end of the school. We highly recommend it!
The School price currently includes our Mental Game Builder Package. Please note, the assessments need to be completed before you attend the school or start working with us individually.

Nice Chip!
We often have players work with us individually and attend the schools too with great results. The Level I school lets us Coach you in a more competitive situation.
After that we provide ongoing coaching and support with the Online Coaching System and regular contact to continue your progress and improvement.
When you are ready, the Level II School is a competition school. One practice round and two full competitive rounds with our assistance and coaching, before during and after the rounds. This will help you really tune up your competitive mental game. Level I is required before you can attend Level II.
The sooner you start this process the sooner you stop the frustration of struggling in competition.
You know you have the physical skills to play well. We can help you show everyone how good You really are in competition.
When you Think Like the Champions, you give yourself the best chance to achieve your Goals in Golf, whether they are to get a College Golf Scholarship or to Win on Tour!
What will it mean to you to play the way you know you can?
Click on this link to get your Mental Game Builder Package  to assess and get our recommendations in just one hour.
Or  sign-up for a Level I School by clicking on this link and choosing the weekend that works for you.
For any questions about the program and steps or your unique situation, please use the Contact tab at the left side of the page. I will be happy to discuss your situation or your Junior Golfer's and make recommendations.
We look forward to working with you and to your rapid improvement. That is the fun part for us and for you too.
Sincerely,
Jon Stabler
Co-founder GolfPsych
Co-Author "The Eight Traits of Champion Golfers"
Inventor Mind Meter and Zone Training System
Expert GolfPsych Instructor
P.S.
To give you an idea of what we will work on and how, the tools we use, here are the Four Fundamental Areas of Your Mental Game that everyone needs to do well:
1. A Good Mental Routine to play your shots and putts-
You probably have a pre-shot routine that you try to do consistently. In our experience most players don't understand what a good routine should accomplish or how it works best. It should be called an effective, athletic shot process. This athletic shot process is unique to you and will result in your performing more athletically with better focus and greater consistency. It will not slow you down and it will simplify and quiet your mind. And Swing Keys are not part of it!
Click here to view a Free Video of an effective Athletic Shot Process.
2. Manage Your Arousal at the Optimum Levels for Golf-
That's right, I wrote Levels. There are multiple levels of Arousal for playing golf shots and putts well. Through our research and work we have found that your Arousal level should be higher for driving the ball and longer shots. It must be lower than that for putting and chipping to do them well. If you are higher or lower than the optimum levels of arousal for that type shot, then your shot or putt will not be as good as it could be, and maybe really bad.
Too high happens when you are excited, nervous, anxious or fearful or not fully committed to the shot. Too low happens when you are not caring or trying. Too low does not happen often for most players.
When your arousal is too high for full shots, your swing will change no matter how strong your Muscle Memory is. Your tempo will probably be quick. In putting and chipping, you will lose your feel for the distance and have a hard time reading the greens. Your focus will widen and you will be more easily distracted. Your mind will get busy and it will become harder to make good decisions or come to a decision. You will react more emotionally than you normally do to poor outcomes.
Our Mind Meter measures and displays your level of arousal during your shots and putts. It will help you learn what optimum arousal for golf feels like and how quickly your thoughts raise it. With it you can practice and play at your optimum levels for golf, IN THE ZONE.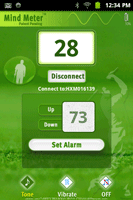 GolfPsych Mind Meter to Play In The Zone
This awareness is crucial to your ability to manage your AROUSAL to play well on the course. You can work with the Mind Meter with us or a Certified GolfPsych Instructor. You may also purchase one for your own practice through us or a Certified GolfPsych Instructor, but only if we have worked with you in person using it. This will assure you and us that you understand how to use it and will get the most benefit from it.
3. You Must Learn to Control Your Thoughts-
If you are like most players, your thoughts will tend to raise your tension. You tend to focus on outcome and score and other things you cannot control like slow play or the weather. These thoughts will have you reacting emotionally to poor outcomes and scores. They will create fear and anxiety.
You cannot just stop thinking those damaging thoughts. "Don't think about score!" doesn't work very well.
We have several Thought Control Techniques that will help you do this during competition as well as in the days leading up to the competition: the "Champion Circle/Bubble"; "Regulating Your Thoughts"; "Cues". All of these and more will be customized to work well for you.
4. The 8 Champion Personality Traits for Golf-
We discovered these 8 Champion Personality Traits through scientific research with multiple studies of the men and women on Tour, the best players in the world.We discovered that the Frequent Winners had these 8 personality traits in common and the other players did not match them.
Tournament Golf determined them through 'Survival of the Fittest'. You cannot ignore them and hope to achieve your goals in golf. Even the Champions can get off of these traits at times.
You have 32 personality traits. Only 8 of them matter for your best golf. You can learn to emulate these Champion Personality Traits when you play golf. It is not that hard but you have to know what that means to do it well and be successful in golf.
Click here to take a simple quiz to see how you match the Frequent winners and how your personality changes when you play. Free
You don't need more swing lessons.
You don't need new clubs.
You don't need to practice harder than you already are.
Swing Keys or Quick Fixes are not the solution.
You know you have the physical skills to play well. We can help you show everyone how good they are in competition.
Get Started with the Mental Game Builder Package Right Now, Click Here
P.P.S.
GolfPsych Trained Players Share
Their Success Stories… Will Yours Be Next?