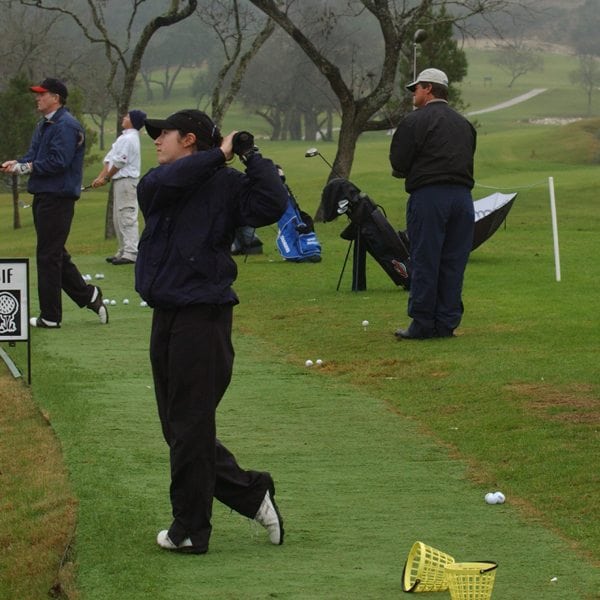 These mental game golf schools enable us to work with you closely and intensively for one weekend without paying one-on-one prices. We will be able to share our system and Tour experience with you and help you incorporate it into your game in the fastest possible way.
Duration: 3 days, Friday – Sunday
Maximum class size: 4 students
Prerequisite: None
Click Here to See the Mental Game Golf Schools, Level I Schedule
Talking about it is not enough. You will go on the range and the course and do it with our coaching  for over 6 hours. We will video every shot and putt on the course and record your arousal numbers through each one. The course time is broken into two sessions with review and discussion afterwards.
This training over 3 days, broken into playing and studying is a very effective method for learning these techniques. Playing shots in front of us and other players, on video and on the course helps give you the feeling of playing in competition. This can actually be more effective than one-on-one because of this competitive feeling.
The regular Level I Mental Game Golf School at Tapatio Springs Resort near San Antonio, Texas starts Friday evening at 7:00 and finishes mid-day Sunday. In 15 hours of instruction you will spend 2-3 hours on the range and 4 hours on the course, the balance of 9 hours in the classroom.
At its conclusion you will have greater understanding of the mental game, a greater awareness of your personal challenges and have clearly defined steps for incorporating your new skills into your practice and play. You will gain:
Keys for improving focus
Techniques for managing tension or arousal
Ways to turn your personal challenges into performance enhancing strengths
Clearly defined goals and steps for achieving them;
Key information on hydration and nutrition to perform well.
Much greater awareness of your thoughts and level of arousal with our Mind Meter .
It doesn't end with the school. The school is just the beginning. With this knowledge and the tools included you will continue the process of building your Mental Game stronger and stronger. The Online Coaching System gives you the tools to prepare for every competitive round mentally and then to learn from your competitive rounds afterwards. A full year Membership is included.
If you need additional coaching, we are always available to you now that you have become a GolfPsych client through the school. We do charge for our time but the ability to continue the coaching and trouble shooting as you compete is priceless.
 The Level I school includes over $400 of assessments and products!
Your online Mental Game Skills Analysis and Mental Game Skills Assessment and Report before the school
Your online Personality Assessment and 8 Traits Personality Assessment and Report before the school
Your Online Coaching System Membership to help prepare for and learn from your rounds for one full year
"The Eight Traits of Champion Golfers" paperback with examples from the Tours
GolfPsych Mental Game Scorecards
PGA Tour Newsletter Library with 39 issues
Only 4 players in each school so space is very limited. Click Here to See the Level I Schools Schedule and begin the process of truly becoming the best golfer you can be.
We will add schools to meet demand or for groups or teams. Please contact us to organize Your Team Level I school. (It worked great for Austin Westlake.)
***From the Dad of a recent graduate about her play the second day after the Level I School
Jon and Deborah:

 

You guys may have already seen it on her post round evaluation, but S…. threw down a 72 on Tuesday in a TJGT major at Augusta Pines.  That was her first time to break 80 in competition in over a year.  She not only broke 80, but destroyed that mark.  There is no question that what she learned from both of you was a BIG part of it.  She's always had the physical ability, but her mind has been in her way.  She "got out of her own way" finally and performed to her potential.  It was fun to watch because I know how hard she has worked at it this year and how close she came to quitting golf altogether.  Anyway, thanks for everything and we will be talking soon.  She is in San Antonio again Mon-Wed of next week.  Let's hope she can keep the momentum going.

 

Her Dad

 

p.s.  Jon, S…. said she was very nervous the last 5 holes because she know she was level par.  She said the breathing techniques really help her nerves.  She made some big putts on the last few holes in that dreaded 3-5 foot range.  So, she was clearly able to calm herself.  It was neat to watch.
Click Here to See the Mental Game Golf Schools, Level I Schedule