Dave Stockton won '92 and '94 Senior Players and the '96 US Senior Open working with Dr. Deborah Graham, using GolfPsych Methods and The 8 Traits
"In 1993, my second year on the Senior PGA Tour, I won five tournaments and $1,175,944, was leading money-winner and was named Player of the Year…the main reason I had a year that for me was unbelievable is that I worked hard on the mental side of my game (with GolfPsych)." Dave Stockton
Henry Brunton, Canadian National Golf Coach for the Royal Canadian Golf Association (RCGA), Master GolfPsych Instructor and a Golf Magazine Top 100 Teacher, in a message to the Canadian National Team Members:
"We highly recommend that all golfers in the Royal Canadian Golf Association Player Development Program read and study this book (The Eight Traits of Champion Golfers by Graham and Stabler). As well, players should strongly consider obtaining a "GolfPsych Profile" and report." GolfPsych has been a large part of the RCGA Player Development Program and Achievement Guide since 2000.
Gary McCord, Champions Tour…
"I've never had a (sports psychologist) before. I knew I had some abilities and wasn't getting the best out of them. I said, 'Doc, I just keep choking towards the end.' So she (Dr. Graham) gave me…a pre-shot routine and…helped me get out of the future and into the now."
Joel Suggs, PGA Master Teaching Professional in Cincinnati: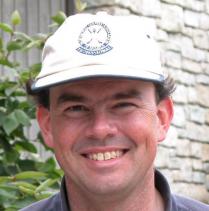 From his email in 2019…
"YOOO DAAA MAAAN!
Most birdies in such a short stretch in my life, 5 birdies from holes 2 thru 9…and double-bogeyed Holes 1 and 3, but still felt really confident/calm/non-plussed. Thanks, as always!"
Bob McKinney of Erie, KS, 55,
Successful auto dealer, won once and placed in the top ten several times in Kansas and Kansas City senior events…
From email in 2008…
"The game of golf has truly turned into a game of enjoyment for me since attending your class. The fun now comes from seeing how well I can maintain a steady relaxed mental state and still be fun to be around for my playing partners during a casual round and then keep that same attitude in competition. I have always known I was a mental case and now I work on what I'm concerned with most – the mental game. I think just as much as I used to but know it's about the right stuff. Thanks, your friend Bob McKinney"
Email update December 2009…
"Just wanted to let you know, it took longer than I hoped but I have finally got a good handle on the mental part of my life.  Not just for golf but more for everyday life in general and that in itself bleeds over into golf. You can't imagine how many times I thought now what would my meter be reading now and it would have been high so I keep learning and changing and I now find myself much more at ease with life and I'm a much better golfer. My handicap is now 2.4 and I'm playing the best golf of my life. But more important than that, I'm a much better person and have a lot more fun every day no matter what I'm doing. I guess what I finally learned was what's really important in life and that golf really is a game to be played that can never be won. A man is not measured by his golf score but how he lives his life. Keep up the good work and have a very merry holiday season."
David Kopf of Beaverton, OR, 55,
A 9 handicap shot career best 79 in club tournament…
From his email May 19, 2009…
"I've never shot this well in a tournament. I think my tournament best was an 82, with the same handicap. I was hitting the ball straighter and longer than I ever have. I only missed 4 fairways. Jon, this performance would not have been possible in my previous states of mind (as you know). I look forward to driving these skills in deeper and learning to execute them amidst greater and greater pressure. It was very satisfying to shoot a good score, BUT I'M FAR MORE EXCITED ABOUT CONTROLLING MY MIND. It will be the Ninja skill that others won't see…"
 Morgan, avid amateur, client and Online Coaching user.
" Hey Jon, got your email. I did shoot 62 with 8 birdies and won some money. A lot of that is thanks to the talk we had the night before. Thanks for the advice in the email! I'll be in touch. "
Steve "O", about Spencer, 2018 Student
"Spencer played in a tournament this past Sunday in Corpus Christi. It was windy, cold and rained all day. Spencer had never seen or played the course before. He followed the GolfPsych teachings and you could see the "calmness" and "focus" and mental mastery at work. He won the tournament by three shots! Your school is by far and away the best money we've ever spent on golf! Thank You! Thank You! Thank You!"
Accomplished a Dream at 57
Dear Jon,

I'm sure you get many letters from former students of your group schools but I needed to let you know what your level 1 training has done for my golf game this summer here in Eastern Iowa. I attended your San Antonio school in February with a 6.8 handicap from the previous year and a desire to play competitive golf at a state level for the first time.  My self confidence in tournament golf at whatever level was low and I was easily intimidated by the "better" golfers I would be paired with. Working harder on my mental game this summer than my physical game, I know without a doubt, a quiet, confident mind can do wonders for a golf game. Your training, even at just level 1, provided me that this summer.

Our City Amateur tournament has been something I have played in since my 20's but I did that. Just played in it. Anytime I had a good round I followed it by a bad round, afraid to succeed. Intimidated by other golfers and the possibility of doing well. This year in the Senior City Am (I am 56), I shot an 80 the first day losing my focus on a few holes that cost me about 5 strokes. Typically, I would have told myself that's about all I could expect, be glad I wasn't playing with the leaders on Sunday and shoot the same the next day.  However, applying my training to use my mental routine, and to keep those bad thoughts out of my bubble, I shot a 2 over 72 the last day and finished the last three holes with fairways and greens, made able birdie putts and didn't have one error in my mental game. Total concentration and confidence.

That was a breakthrough for me.  It proved to me your plan works if I work the plan.

With the confidence to play at a higher level, and as my handicap has progressively gone down this summer, I played in the Iowa State Senior Amateur tournament a couple of weeks ago.  Playing in this type tournament is something I set as a life goal a few years back and I now had the opportunity to do it on a course I was familiar with and with a confidence in my mental ability to play with the Big Boys (well, for our state anyway).

I shot 78, 72, 78; finished top 30 and felt confident playing the final round with one of the best golfers locally and in the state.

Anyway, without GolfPsych's help, I wouldn't have even entered that tournament. Without your help I wouldn't have had the ability to have accomplished a dream.

Thank you!!

My handicap is at a 4.0 now and still dropping as our golf season is starting to come to an end. At 57 years old now that is the lowest it has ever been. I look forward to improving on that next year.

Thank you for something I wish I had 30 years ago. But, as a good wine improves with age, so does my golf.

Scott Benson,
Robins, Iowa
Strong Mental Game
Dear Jon,

I appreciate the time you spent with me in Tapatio to work on my mental golf game. Thank you also for the binder – I'm able to organize and use all the materials you provided us. Everything I learned I have applied, and my game is already benefiting. After the camp I was able to play the Quarry Golf Course (San Antonio) and I had a very good round. The night before and morning of, I watched my eating and drank a lot of water.  My mental game was also in very good shape for that round.

There were a couple things that got into my bubble – one of them being the slow play in front of us. It ended up costing me a stroke, but I realized that it was bothering me, so I kept it outside of my bubble for the rest of the round. I played very well considering I had never played the course and my mental game was very strong.

Today was the first day I played by myself and my mental game was strong again. I can already tell how much my game is going to improve. I would just like to thank you again for spending time on my game and plan to stay in touch with you throughout my high school and summer golf seasons. Tomorrow is my first day of competitive rounds for the high school team and I'm ready.

Thank You. Sincerely,

Andrew 
Better Golf Games for Instructor and Students
First – a big thanks for the gift that the Golf Psych system is. I had my first hole in one yesterday while playing with 2 of my GolfPsych students. The shot was hit with a good mental pre-shot routine and the ball tracked exactly as I had visualized it. Earlier in the round I had very similar results from a full mental pre-shot routine and left it 8 inches short of the cup. The more I teach the better I apply the tools. Thanks for the experience!!!!!!!

Second – two of my students won their flights in the Austin Golf Association tournament recently. One of them, Greg, had never broken 80 before and since the class did so 3 times in 5 rounds. Tommy has been moved up to a higher flight and told me that he is scoring better than 3 players who he describes as having much better golf swings.

Best to you,

Stan Tyler 
(GolfPsych Instructor, Advanced Level)
Trip to State
Jon,

Thanks so much for all your help with Rachel. Before your help, Rachel had trouble breaking 100 in golf tournaments. She recently shot 80 in her Regional Championship and earned a trip to State as a freshman! At State, she finished 18th.Thanks!

Skip (her teaching pro)
Won Four Man Scramble
Dear Jon,

Just a note to say thank you, both you and Deborah, for the golf psych school. Since I've been home I won a four man scramble and then came in 3rd in our Ontario Head Pro/Assistant Pro tournament. I didn't know what we shot for the day until we were finished. I guess you would call that not worrying about the outcome.

Thanks again,

Doug
On the PGA Tour
Jon,

Thanks for the GolfPsych updates.  I used them a lot when I played on the PGA Tour and I still use them quite a bit here at Illinois with my team!  I got a lot of great information from you and Deborah throughout the years and I really look forward to receiving the updates.  You two are at the top of your profession and I appreciate being included in your emails. Take care and good luck.

Mike Small
University of Illinois 
Made the whole team better
Jon:

I meant to write this letter long ago, but life gets busy with a 3 year old boy.

I had an awesome experience going through the GolfPsych instructor training in June of '04. After the training I invested in having my entire golf team have the GolfPsych personality assessments done. After viewing all of the profiles I felt like these huge windows opened up.  I understood each of these young men so much better. Some of the players I had coached for 2 and 3 years previously seemed like different individuals in my eyes.  This was also invaluable in learning how to better coach my incoming freshmen. We had a very large freshman class coming in. Five of my team of nine were incoming freshmen. They came from all over the world – Georgia, South Carolina, Scotland, France and the Netherlands respectively. The team was completely blown away at what they learned about themselves and about their golf game. I started the year by taking the team away on a retreat and taught them about the GolfPsych system. Everyone was very excited and ready to get our tournament schedule started. We started out the year ranked 63rd in the NAIA.

All during the fall season our starting lineup consisted of 4 freshmen. In college golf you only play five each tournament so having 80% of your starting lineup being freshman, you know you will have good days and bad days. Anyway, we did very well in the fall, more good days then bad and the guys were trying their best to implement the principles taught in GolfPsych.

Then came the spring.

We started out the spring with a bang by finishing 3rd in our first tournament. We led the eventual 2005 NAIA National Champions after the first round and just trailed Division 1 Ole Miss by a couple of strokes. The second round we played well, scoring better than on round 1 but Ole Miss and Johnson & Wales just played a little better. We were thrilled! We beat 6 other teams ranked in the NAIA top 20!

This trend continued throughout the spring and on April 7th we cracked the NAIA nation's top 25 for the first time at number 22! Previously we were division III and were ranked for over 4 years straight but the NAIA is an entirely different animal – much tougher competition.

To make an already long story shorter, we eventually made the National Championship in Olathe, Kansas. Only 27 teams from the NAIA qualify each year.

I really didn't believe we could make such a huge jump in such a short time. I projected it would take 2 years to get this team ready to compete regularly on the national level. Happily, I was very wrong.

GolfPsych really gave our team a competitive edge. We really had strong principles to cling to. Especially when things weren't going well. That was the difference that got us to the National Championships.

With a still very young team, we could be set up to have huge things happen in the next few years.

Thanks very much,

Coach Fruisen
Three Tournaments
Dear Jon and Deborah,

Summer is here and things are looking up for my golf game! I have already played in three tournaments, two local (NTPGA) and one national (AJGA), and I am already seeing vast improvements from last year. After a few months of tweaking my mental game and after finally getting my physical game on track, I am doing better and have more fun. I owe much of my success and gratitude to y'all as the results of your help are beginning to show.

After placing a solid 26th in the highly competitive AJGA tournament, I placed sixth yesterday and first today in two local but hotly contested tournaments. Although I demonstrated great consistency in the AJGA tournament last week, today was the day that I found and used the power of my new mental abilities. Although I played a great round with only a few hiccups, it was still only enough to force a playoff. But I was able to outsmart my opponent and birdie the first playoff hole to win. That focus and resolve that I have been searching for is here and so is the confidence. I have no doubt that my now consistent mental routine and my ability to keep not-allowed thoughts out of my head has helped tremendously.

I'd like to thank y'all again and I hope to write back with stories of more success and improvement!

Sincerely,

Brent
Subject: Update
Jon and Deborah,

I just finished reading the e-version of your newsletter and found it a very good refresher. I believe Brent has been in touch and told you of his recent successes. He attributes much of that to your work with him (and the fact that his growth has stabilized a bit). While I was thinking about it I thought I would give you some feedback. (Personal details deleted)

The other day I finally took time to get my professional to look at my swing, and actually practiced – mostly on chipping and putting. This was enough to build a little confidence and free me up to take advantage of the mental techniques I've learned from you. I was able to relax knowing I could execute the shot required if I could visualize and get into the feel mode. I shot 1 over on Saturday and 8 over on Sunday (with a quad when we were forced to play through some unruly older guys – couldn't keep them out of my bubble).

I am happy and thankful to you both, and Brent and I are constantly talking about what we learned with you. In two weeks my partner and I will attempt to win our flight in our big member-guest for the third year in a row. And yes, we have been moved up each year from the second to the first flight and we'll be in the president's flight this year. At one of the schools you kept trying to get me to set a goal such as moving up to better flights and winning there and I wouldn't commit… I guess it is happening regardless!

Anyway, thanks again and keep in touch! And the newsletter is great!

Don

PS: Sorry, but I'm reluctant to tell anyone else about your school as it is a great secret weapon. It's almost amusing to see our competitors sabotage their games. You can tell which ones are strong mentally; they are the ones at the top of the leaderboard! Perhaps I'll set up a session in the fall for some more of my dear friends and customers.
The Results: Better Scores
Hi Jon,

Really felt that I should respond since the clinic.  I am now working extremely hard on making sure that I'm fully committed to the shot at hand.  I feel that progress is being made and I'm becoming a believer more and more that the score will take care of itself if I let it happen on each and every shot.  Really seems good to be able to see it and hit it with more and more self-reliance that it will be where it needs to be when the shot is finished.

Now the results, since golf is score related the results are beginning to show – last 4 rounds: 79,78,78,73 and the 73 was just a pleasant walk in the open outdoors.  After I looked at my scorecard I could have easily had 6 to 8 birdies in a row during one stretch.

Thanks for everything.

Steve 
Re: GolfPsych Instructor School
Just wanted to say THANK YOU to you and Deborah.

I had a great time and the school was one of the best that I have been to!!  I am excited about golf again and I have already started using the techniques in my lessons. Thanks for everything.

Helen Kurtin

(GolfPsych Instructor)
Work Smarter Not Harder
Dear Deborah and Jon,

I am pretty sure there no way I can ever repay what you and your teaching have done for my game, not to mention my life.  When I first met you, I was trying to "outwork" everybody and you showed me how to "work smarter not harder" to achieve my goals.  Now when I go to the golf course and start spraying it or whatever I might be doing I don't start tinkering with my swing or doubting myself, I just try to step up my visualization of what I am trying to do and voila there it is!

I can honestly tell you and anybody who asks me or reads this that the reason that I am the player I am today is not just because of the balls I hit in practice, but more due to the lessons I have learned putting your teachings into play.  And the best part is, not only has it made a better player, but it has made me a better person too off of the golf course.  You can't ask for more than that, can you? Again thank you for everything!

Damon Rogers
PRCA Rodeo Clown and Entertainer
Subject: Visualization success stories
Hi Jon,

Have been working with Taylor and Peyton this month on pre-shot routine as they've started their tournaments this summer. Peyton in particular told me after his round last Friday, with astonishment in his voice, that when you see the shot first in your mind, then it happens. Peyton finished 2nd in a field of 24 last week and 2nd yesterday in a field of 8 (3 shots out of first). Taylor said he's having success with seeing the shot first too. He finished 7th last week and down in the pack yesterday. (He had a swing glitch yesterday morning, we fixed it in the afternoon and he didn't miss 1 fairway last night when we played).

My game's continuing to improve as well. Handicap is down to 11 now, continuing to work on strengthening my pre-shot routine skills. Hope you and Deborah are enjoying summer.

Dave
A short while later….
Subject: Another trophy in the case
Hi Deborah,

Peyton played in the State Championship for 10 and 11 yr olds this past weekend. He finished tied for 4th with 2 other players and won the playoff on the second hole–got up and down for par on both playoff holes. Had the 3rd lowest score of the final round and was only 4 shots out of first. The boys who finished above him were all 11, so next year looks very promising. Hope you and Jon are doing well.

REGARDS,

Dave
Drastically improved my golf game
Golf Psych has definitely drastically improved my golf game. The instructors are very willing and dedicated to help me succeed, and have helped me create a solid mental routine that can withstand anything I face on the course. Golf Psych has absolutely helped improve my confidence both in myself and in my golf game. I have seen myself trusting my swing and committing to my shots, and it is all thanks to you!

Skylar
Junior Golfer