GolfPsych Game Builder Score Cards
Track Your Mental Performance on the Course
$7.00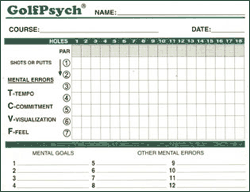 Product Info
Track your mental performance on the course. Each scorecard has room for notes on 18 holes and 7 shots per hole( of course you won't need that many shots, but just in case). It also has spaces for your mental goals for the round and cues for using our "4 Questions" technique after any shot that you play poorly. Like having a coach in your pocket. This will help you stay focussed on the mental side while playing. Ten scorecards per book.
On the back of each tear out sheet is a short post round rating form. This should be completed some time after the completion of the round.
This tool will help you gain insight into your mental errors and quantify how you are doing. This will then lead to adjustments to your mental goals and better performance the next round.
You will learn more from your worst rounds than from your best if you evaluate your performance after the round. After all you don't want to continue making the same mistakes. This tool will also give your GolfPsych Instructor good insights into what is happening during the round.