The Eight Traits of Champion Golfers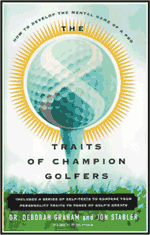 Product Info
Not sure why you are not getting more out of your game or lessons; where to start with mental skills training; or just what a strong mental game really is? This, the definitive book on the mental game of golf, will answer these and many more questions. And it will give you simple and effective steps for getting started.
Written in an easy-to-read and easy-to-use format, each chapter provides step-by-step instruction for developing each of the 8 Champion Traits.
It can be used alone as a primer for building awareness and greater mental toughness, or better yet, used in conjunction with the Mental Game Skills Assessment and Game Book. It provides great supplemental exercises and recommendations for strengthening the challenges identified in your Game Book.
For example, if you test low in confidence, low in your ability to focus, or high in tension you will simply go to that respective chapter in the book for further detailed guidance.



Coaches, Team Log-in for Special Offers and Information

HHPRO Log-in for Special Offers and Information