Mental Game Skills Assessment and Report
*Instant Online Results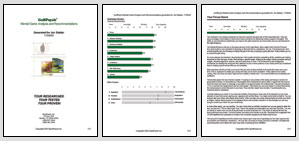 Product Info
Are you ready to end those game-busting mistakes, putt lights out and take your game to a whole new level? This online evaluation, profile and recommended techniques will get you well on your way to doing all of that and more.
At a glance you will see exactly why you are losing strokes, and, what you can do about it NOW! Use the simple, personalized tips for quick solutions, or try the easy lessons for long term fixes.
This Mental Skills Assessment and Report is invaluable for the player new to mental skills training, or any player in need of a refresher. Take it anytime you need answers fast. The Mental Skills Assessment and Report is by far the simplest, most economical, and most effective way to build your mental game. Why spend hours reading books looking for general answers when in 20 minutes and for less than the cost of a wedge, you will have your own personalized plan for getting more from your game.
The 111 multiple-choice golf related questions are easily completed in less than 20 minutes. The process of answering the questions alone provides you a concise description and review of the nuts and bolts of a strong mental game.
Your scores for the 8 Mental Skills are displayed graphically on one-to-ten scales for an easy-to-read chart of current strengths and weaknesses in your mental game. Results and accompanying Report (ranging from 30-38 pages depending on your current strengths and weaknesses) spell out each of the primary mental skills and recommended steps for improvement along with Quick Fixes for your next round.
This assessment, chart and Report together provide you a quick, objective assessment of where you are, what you need to work on, and, will provide insights to changes that can help you get the most out of your lessons and greatly improve your play. Your Mental Skills Report will be generated and returned to you by e-mail in Adobe Acrobat format usually within 30 minutes.
Subsequent chart-only assessments can be used to: monitor progress; identify causes for lost strokes; prepare for a big event; or provide a simple and easy way to journal progress for yourself or your instructor or coach. Please note that chart-only retests can be purchased in multiples for a considerable discount.
The GolfPsych Mental Skills Assessment and Report is not to be confused with the in-depth personality assessment, the GolfPsych 8 Traits Assessment and Report which measures personality. The Personality Assessment generates measures of your personality strengths and challenges, uncovers underlying challenges to performing the 8 Mental Skills and identifies your personal learning and playing styles.