Champion golfers are generally very stable emotionally and they handle the frustrations of golf readily. Often it is difficult to tell by their mannerisms whether they are playing well or poorly. This is not to say they are unaffected, but that they generally will not experience the heights nor depths of emotions that can sabotage play. When they do experience emotions, they make quick use of mental techniques to channel these emotions toward greater focus.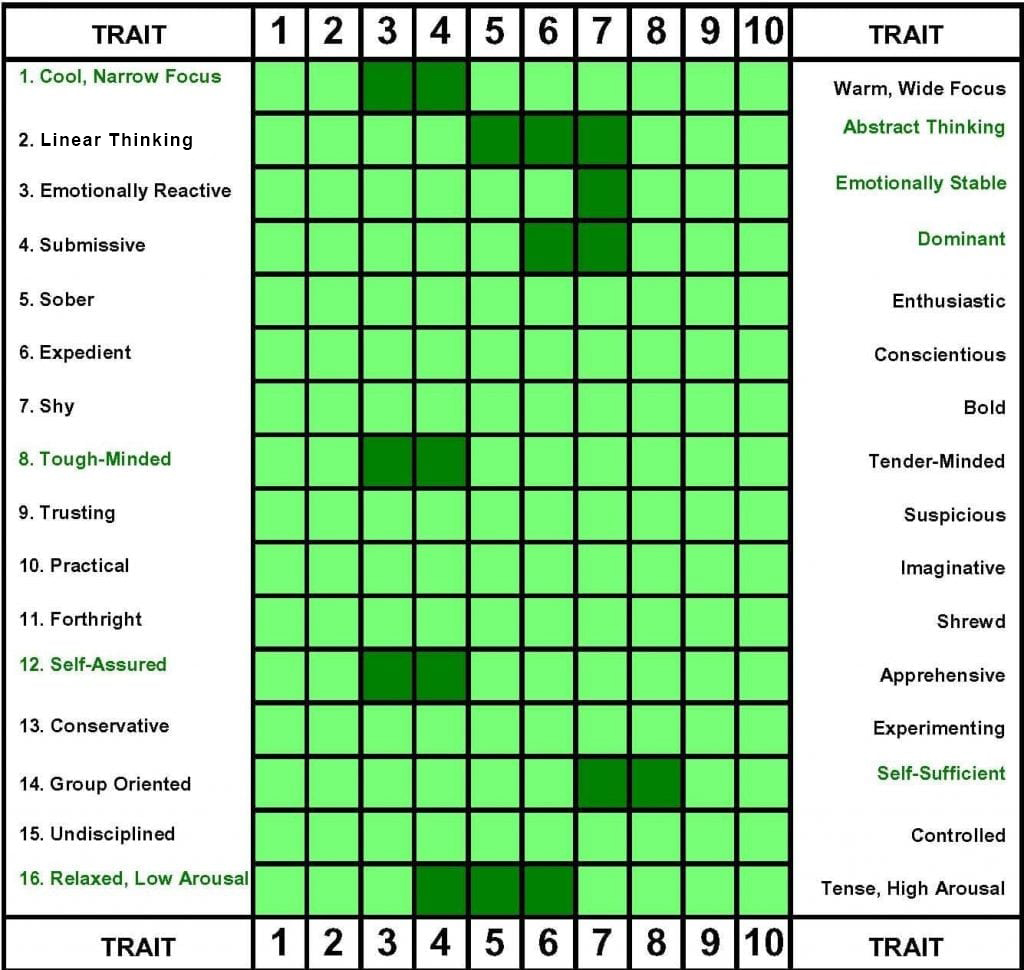 Our first study was of the LPGA players in 1981 discovered that there are 8 personality traits out of 32 where the frequent winners on Tour measure differently from the other Tour Pros. Follow up studies in 1989 and 1990 on the PGA Tour and Senior PGA Tour players found the same 8 personality traits for the frequent winners. We have been able to map where the champions score consistently on our personality assessment.  These ranges are the darker green in this sample report.
*EMOTIONALLY STABLE
…your ability to minimize your emotional reactions to everything, good or bad, including your shots, your lies, your luck, the fans, the conditions, the marshals, the cameras, your pain–you name it.
You cannot afford the loss of psychic energy to emotions such as anger, frustration, sorrow, excitement, jealousy, elation, pity, fear, or negativism. When you have played your best, you were most likely numb to most emotions–at least until the point where you let your focus widen to take it all in.
If you are one to readily feel your emotions, remember that those emotions are largely determined by your conscious thoughts. If you are in the habit of thinking things that arouse your emotions, you are more likely to experience your emotions during competition. For example, if you allow yourself to think such things as; "life isn't fair, golf isn't fair, I have been cheated out of a great round,…", you are likely to experience a surge of performance inhibiting anger or sadness (which depends on other factors).
Remember that cathartic acts (releasing your anger through aggressive acts) don't work in everyday life or on the golf course. Engaging in outward behavior to express frustration only breeds more negative golf emotion. Techniques for controlling and replacing thoughts are often the first step toward controlling emotions. Other factors influencing emotions are high tension and low confidence. Physiological factors such as hypoglycemia, chronic fatigue and hormone imbalances can also influence emotion.
The Champions scored on the more stable end of this scale: 7
Learn to control your emotions like a Tour Champion.
Dr. Deborah Graham and Jon Stabler have helped Tour Pros and thousands of Competitive Golfers like you control their emotions on the golf course using their Golf Psychology System and Tools. Find out how you compare to the best players on tour with our 8 Champion Personality Traits for Golf Assessment and Advice.  A 42-page report with recommended methods based on your individual personality.