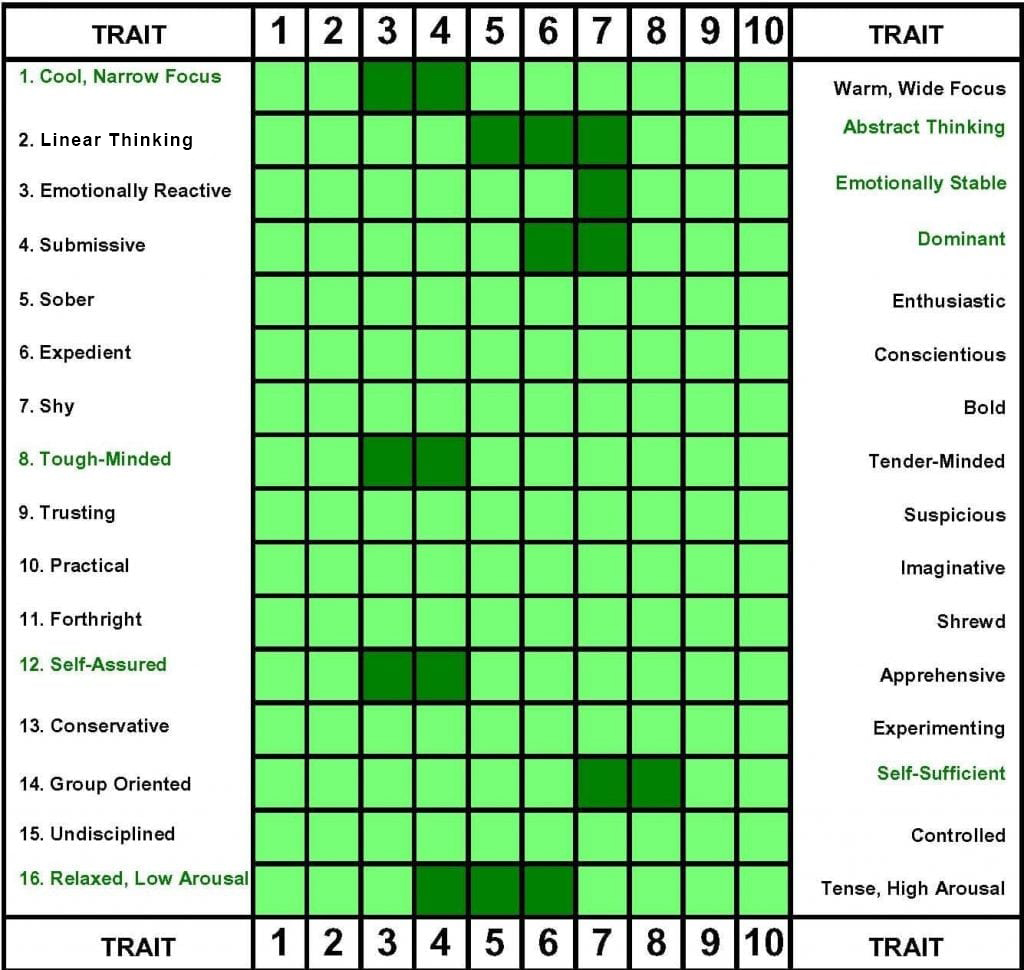 Our first study was of the LPGA players in 1981 discovered that there are 8 personality traits out of 32 where the frequent winners on Tour measure differently from the other Tour Pros. Follow up studies in 1989 and 1990 on the PGA Tour and Senior PGA Tour players found the same 8 personality traits for the frequent winners. We have been able to map where the champions score consistently on our personality assessment.  These ranges are the darker green in this sample report.
*TOUGH-MINDED
…your ability to maintain a self-reliant, nonsensitive, completely realistic and rational attitude during competition. Your spouse might call this being cold and selfish if you are like this at home. But on the course, fans will say you have "nerves of steel", you are a tough competitor, and that you are great under pressure. True Champions can be altruistic, loving, and caring at home while being tough, and self-absorbed during competition. The ideal measure for competition is 3-4.
Tour Pros are also above average in their abilities to be tough-minded but to a lessor degree. The Champion golfers have learned to maximize their tough-mindedness for peak performance while on the course and to minimize their tough-mindedness for maintaining quality personal relationships and a balanced life off the course. The Champions have the remarkable ability to stay tough-minded under adversity, using potential distractions as cues for more determined focus and concentration. They frequently birdie after a bogey, play better with pain or injury, or focus even better under the adverse conditions.
Their ability to prevent outside events, controversy or playing partners from effecting their play is above average. They seldom let their emotions or level of arousal change in response to the events outside their control. They can be selfish when it is in the best interest of their game and they approach their rounds rationally and logically.
The Champions scored on the low end of this scale: 3-4
 Learn to think like a Tour Champion.
Dr. Deborah Graham and Jon Stabler have helped Tour Pros and thousands of Competitive Golfers like you control their emotions on the golf course using their Golf Psychology System and Tools. Find out how you compare to the best players on tour with our 8 Champion Personality Traits for Golf Assessment and Advice.  A 42-page report with recommended methods based on your individual personality.