As golf becomes increasingly more competitive at every level, good nutrition and hydration for golf are more important than ever.
Little is more important to your well-being and your ability to perform your best than the effort you put into maintaining your health. To fully maximize all the hours of hard work you put into developing your physical skills, mental skills and fitness, your body systems must be perfectly tuned as well.
Eating for Maximum Health Is Great for you and your mental golf game.
Eating the right foods does more than help you maintain overall health, desirable body weight, and fitness. It also helps you employ optimum nerve-muscle reflexes to get the very most from your game when you compete.
Keep in mind that regardless of what you may hear, there is no one miracle food or supplement that can do this for you or quickly make up for a diet that is centered around nutrient poor foods like fast foods, sodas, chips, candy, etc. Good golf nutrition and hydration must be a lifestyle choice.
Proper Golf Nutrition
With only a small amount of effort, compared to everything else you do for your game, you can create eating habits that include whole, fresh, nutritious foods –and when necessary whole food supplements– to make sure you are getting all the basic nutrients in the balance and form that you need to play your best. You will need to include a balance of :
proteins
carbohydrates
fats
vitamins
minerals
water
Poor Nutrition Compromises Your Ability to Play Golf
Just as a great swing is possible because of great fundamentals; and great mental toughness is possible because of great mental skills; your peak performance is better and sustained longer because of a well tuned body.
Conversely, just as a poor grip or stance or posture can affect the quality and efficiency of your whole swing, missing even one of the important elements of good nutrition and hydration can affect the quality of your play.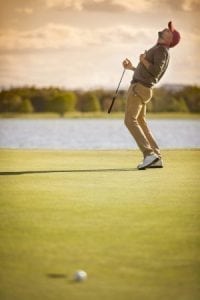 Lacking adequate levels of even one important vitamin can affect your play in numerous score busting ways.
For example, if you have a simple calcium deficiency because of poor intake, poor digestion, or poor hydration, it can create a number of challenges for you that you may think have little or nothing to do with your diet, including:
a compromised immune system that makes you more susceptible to colds, flu, and allergies
muscles that will not contract and relax efficiently
a heart rate and rhythm that has become irregular making it harder to manage tension
aches and pains that are increasing and taking longer to go away
moodiness that is increasing making you more impatient, easily frustrated, sad, angry, etc.
Basic Rules of Good Golf Nutrition
Here are some of the basic rules of good nutrition and hydration for golf to get you started. They are pretty simple but don't let that fool you. Each takes some effort, and each is very important for playing your best:
Rule # 1
Try to eat 3 to 5 small healthy meals throughout the day, every day.
This can be 3 meals and 2 nutritious snacks
Choose the foods that give you a healthy ratio of carbs, proteins and fats
Ideal ranges for these ratios are: carbs 30%, protein 30%, and quality fats 30-40%
Do not skip meals. If you cannot stomach a meal, at least have something light, like a smoothie, a protein drink or some yogurt. If you are in a pinch for time, at least munch on some healthy snacks (no, a snickers bar is not healthy even if it does have peanuts–for some reason a lot of our clients ask that question :)).
Rule # 2
On tournament day, do whatever it takes to eat at least every 2 hours.
Try to have a healthy, balanced breakfast an hour before you play.
Carry healthy snacks with you so you can munch as you play –do not count on snacks being available on the course (i.e. trail mix, jerky, fruit, peanut butter sandwich, healthy sports bar).
Eat before you get hungry. If you wait to get hungry, its usually too late–blood sugar is already dropping.
Rule # 3
Make fresh whole foods the goal for a majority of your diet.
Make fresh, organic fruits and vegetables a large part of your diet.
"Simply prepared" and "lean" sources make for the best protein.
Make as much of your diet as possible organic and raw (fresh fruits, salads, nuts, etc).
Include healthy fats (olive oil, coconut oil, avocado, nuts, etc.)
Check out a Mediterranean Diet for some menu ideas
Rule #4
Minimize sugar, alcohol, caffeine, and foods with lots of additives and preservatives (read the labels!).
This means cut back on, or eliminate those sodas, drinks with alcohol, snack foods and fast foods.
Double check your favorite sports drink too–usually they have more sugar than is good for you. If so, get a new one.
Rule # 5
Stay hydrated! Make drinking water and using a good electrolyte replacement a regular part of your preparation for competitive golf.
You may not think of it as such, but water is one of the most important nutrients in your body, and one of the biggest parts of proper golf nutrition
The quality of your tissues, your performance and your resistance to injury is absolutely dependent on the quality and quantity of the water you drink
Drink water and a good electrolyte replacement on practice days
Drink water and a good electrolyte replacement before, during and after a competitive round, increasing both on hot and humid days.
Rule # 6
Take a good, natural organic multi-vitamin and other supplements as they are needed.
If your diet needs improvement, if your sugar, alcohol or junk food intake has been high, or if you have been under stress, you will want to consider taking a good quality multi vitamin (you will still need to improve your habits!)
Consider doing a wellness check. If you feel your health is less than optimal, you can get diet and supplement recommendations specific to your needs more quickly.
For More Ideas
For more ideas on improving your diet and hydration for ideal golf nutrition, please contact us.