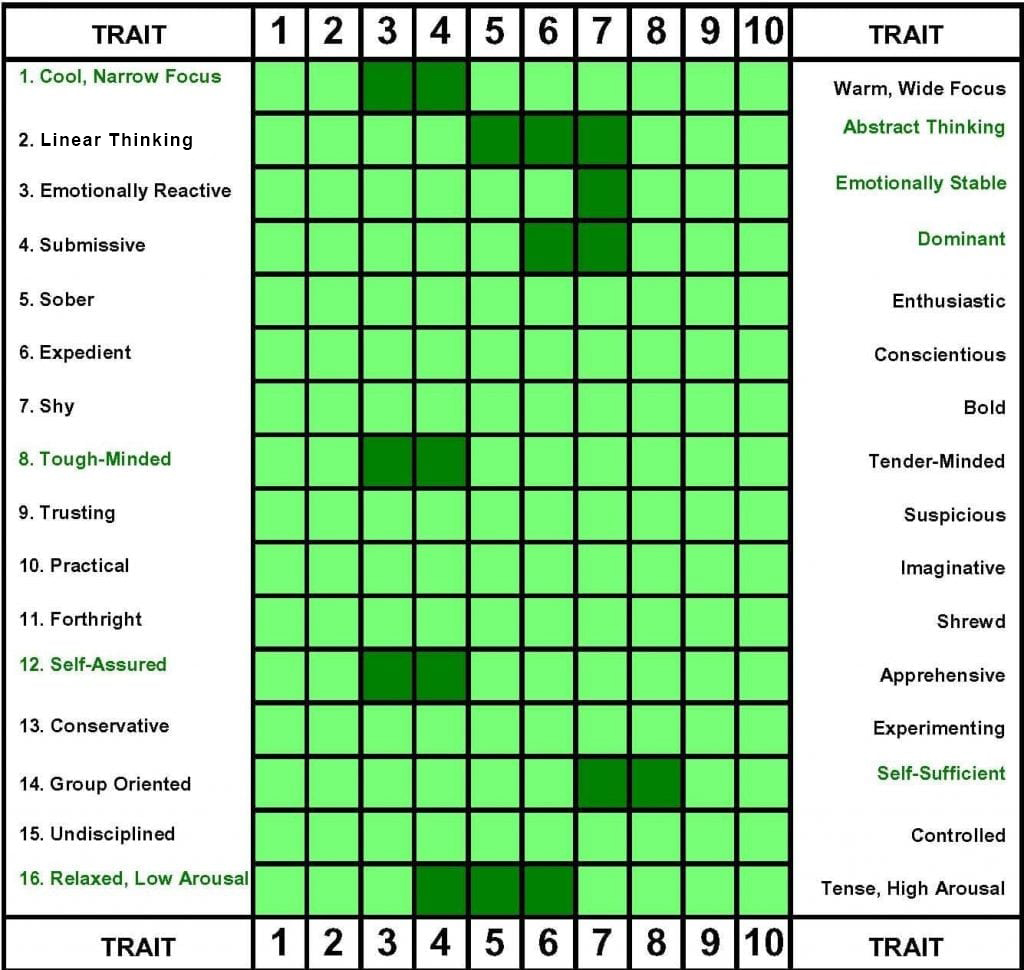 The golfer who has difficulty making and committing to decisions on the course will not achieve a Champions status, regardless of how well their physical skills have been developed. Staying relaxed yet fiercely competitive is tough to balance.
Our first study of the LPGA players in 1981 discovered that there are 8 personality traits out of 32 where the frequent winners on Tour measure differently from the other Tour Pros. Follow up studies in 1989 and 1990 on the PGA Tour and Senior PGA Tour players found the same 8 personality traits for the frequent winners. We have been able to map where the champions score consistently on our personality assessment.  These ranges are the darker green in this sample report.
*arousal in golf
…your ability to maintain the proper level of arousal for competition. Competitive golf requires a higher level of arousal than does competitive bass fishing or skeet shooting; it requires a lower level of arousal than rugby, soccer, boxing or most any other contact sport does. For peak performance in any sport, you must maintain the appropriate level of arousal during golf competition.
It is vital that you understand your natural level of arousal and develop mental techniques for regulating a moderate release of adrenaline to perform your best in golf.  If you are naturally very relaxed and "laid back", you will need to learn techniques to "psych up" for competition; if you are naturally very hyper or tense, or very aroused by competition, you will need to learn one of the many relaxation techniques that will work for you. This is the optimum level of arousal for competitive golf.
The Champions have learned to control their level of arousal within this optimum range during competition. When you are too aroused, your mind is very busy and you are more aware of the variables like trouble or wind while playing. Noises or movement can be very distracting. You may be overly concerned with mechanics. Too low an arousal and your mind will wander, missing variables important to competitive play, such as changing conditions, good course management and swing cues.
Because your natural level of arousal is low, you probably are thought of as a relaxed, low-keyed person. In general, you likely remain under-aroused for competition unless competition itself psychs you up. Be prepared to use mental techniques to motivate and elevate your level of arousal when needed.  It is quite possible for your arousal to fluctuate during a competitive round, much to the detriment of your game. Low confidence, high expectations and elevated emotions can create fear and apprehension, making you too aroused for competition. This, generally, only occurs in events that have great significance for you. It is possible to start such an event at 9 to 10 on this scale by trying too hard. If this leads you to extreme frustration and "giving up", your arousal can drop back to a 1 or 2, leaving you apathetic and largely uninvolved. Neither level allows you to play effectively or competitively.
Keep in mind that through the round your level of arousal should fluctuate between 4 and 6. Putting around a 4 allows optimum use of your fine motor skills. Driving the ball around a 6 allows fluid exertion and control over larger muscles without over-hitting.
The Champions scored on the more stable end of this scale: 4-6
Learn to think like a Tour Champion.
Dr. Deborah Graham and Jon Stabler have helped Tour Pros and thousands of Competitive Golfers like you control their emotions on the golf course using their Golf Psychology System and Tools. Find out how you compare to the best players on tour with our 8 Champion Personality Traits for Golf Assessment and Advice.  A 42-page report with recommended methods based on your individual personality.