Taking steps to manage your level of assertiveness will help you regulate your level of dominance on the course so that it helps rather than hurts your performance and helps you stay competitive under pressure. Being too dominant can hurt your decision making and lead to careless mistakes, while not being dominant enough can lead to complacency and has a similar effect as low confidence. To stay competitive in golf no matter what, you need the ideal level of dominance.
Our first study of LPGA players was in 1981, where we discovered that there are 8 personality traits (out of 32) where the frequent winners on Tour measure differently from the other Tour Pros. Follow up studies in 1989 and 1990 on the PGA Tour and Senior PGA Tour players found the same 8 personality traits for the frequent winners. We have been able to map where the champions score consistently on our personality assessment.  These ranges are the darker green in this sample report.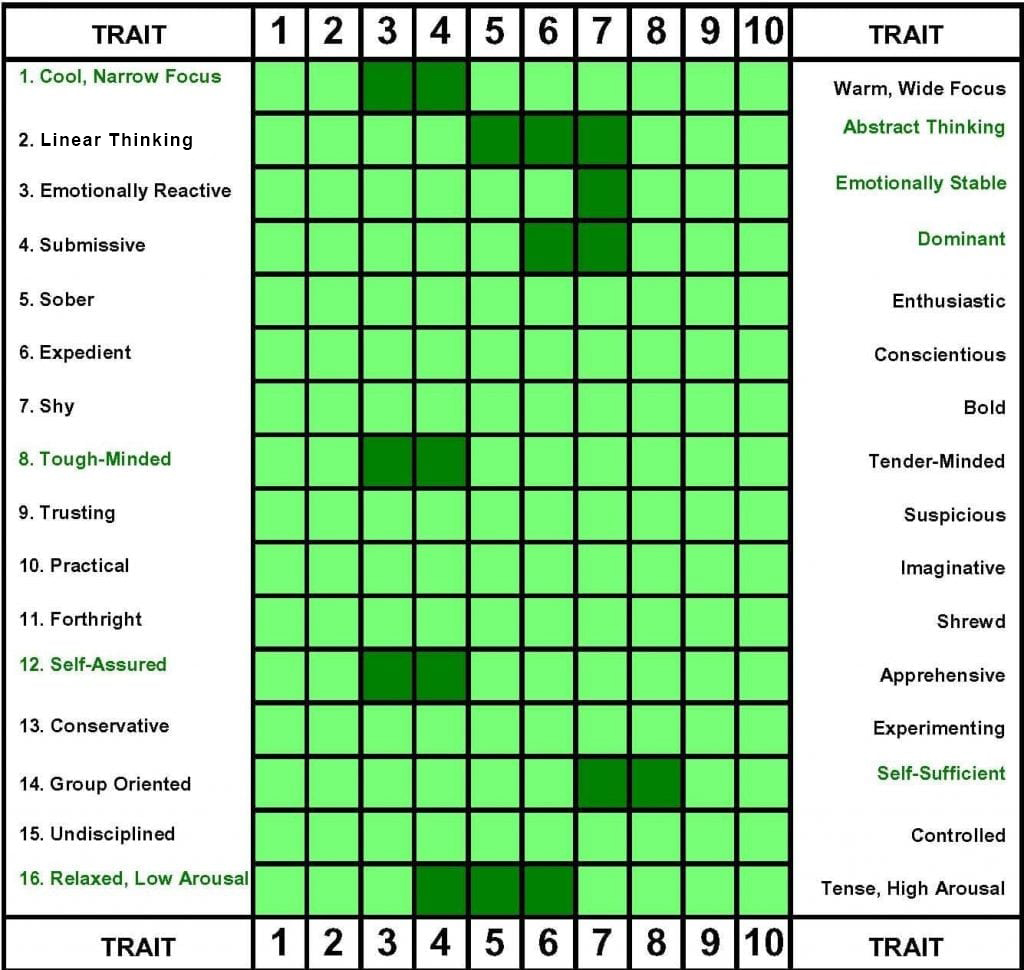 *DOMINANCE TRAIT
Dominance is your ability to approach the round with a moderately aggressive and competitive attitude — one that will allow you to challenge the course and stay competitive even under pressure. You will make assertive and slightly risky decisions regarding clubs, swings, and shots, but all are within your level of confidence and control. If you are not dominant enough, you will have a tendency to get careful to protect a low score or "steary" when you have a high score, and will miss opportunities by playing too safe. If you are extremely dominant, you take too many aggressive high-risk shots, and often try to force opportunities to make up for lost strokes. Taking steps to manage your level of assertiveness will help you regulate your level of dominance on the course so that it helps rather than hurts your performance. Emotions, tension and confidence can raise or lower dominance.
THE CHAMPIONS play to a 6-7 on this scale. The best tour pros take a dominant, competitive, and slightly aggressive approach to playing competitive golf. They are skilled at managing the course in a way that both tests and maximizes their current skills. Champions are dominant enough to take the moderate risks that put them into contention, yet they are not so dominant that they try to force their opportunities. They remain committed to their plan for managing the course, resisting changes to protect or force a score.
If you fluctuate in your dominance, you might struggle holding leads or digging out of a deficit. If you're losing by a large number of strokes early, it is easy to tell yourself to play extremely aggressive, but this usually won't result in a better score for you. If you're leading, you might try too hard to avoid bogeys that you're unable to improve your score. It is important to maintain a consistent mental approach and routine each time you approach the ball. Do the things that make you a great golfer, and maximize your chance of doing well on the current hole. Focus on the hole in front of you and how you can perform your best, not what you "need to do" or "need to avoid." This will help you stay competitive regardless of the situation.
The Champions scored on the more stable end of this scale: 6
Stay Competitive in Golf
You're not going to be competitive if you pay only to minimize failures, nor if take too many risks. Be consistent in your decision making and aggression regardless of the situation. For many people, it is easier to remain in the 6-7 range if you focus more on what you're doing, rather than what your opponents are doing. This sets a realistic goal of being the best you can be, rather than trying to control things that are out of your control.
Learn to think like a Tour Champion.
Dr. Deborah Graham and Jon Stabler have helped Tour Pros and thousands of Competitive Golfers like you regulate their dominance using their Golf Psychology System and Tools. Find out how you compare to the best players on tour with our 8 Champion Personality Traits for Golf Assessment and Advice.  A 42-page report with recommended methods based on your individual personality.