Tip # 1: Start Early!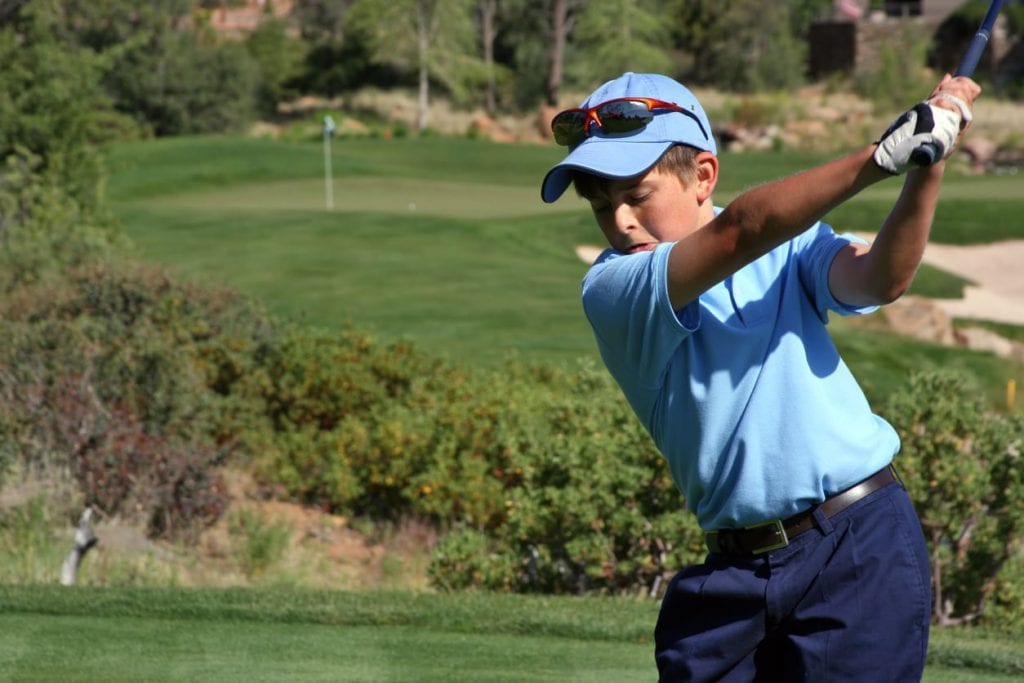 If you are an avid junior golfer and you dream of playing golf on a college golf scholarship, it is important that you start your preparation early. The following tips will help teach you how to get a scholarship for golf.
Tip # 2: Make a Wish List
During freshman or sophomore years, begin a wish list of the things you value most for your college experience. Start keeping notes of "needs and wants" as they evolve during your high school years.
Things to consider when you check out schools:
proximity to home
size
campus
city
climate
level of competition
academic reputation and your academic interests
cost
quality of the golf program
practice facilities
As you get closer to graduation and begin the recruiting process, you will also want to weigh factors like:
opportunity for partial or full scholarship
personality of the coach and his or her coaching style
your odds of being able to make the traveling team
current team members
Tip # 3: Pay Attention to These Three "Pre-College Musts"
Think of your preparation for college golf as falling into 3 important categories. And be prepared to do your best in each to give yourself the ultimate opportunity to play golf at the college of your choice on a college golf scholarship.
1) Pay Attention to Grades & Entrance Exams
Be sure that you do not sacrifice grades for your golf. Every class you take in high school will count toward your GPA (grade point average). And you want to keep your GPA as high as possible to give yourself the best opportunity to attend the college of your choice and get at least a partial scholarship.
Aim for at least a 3.0 all through high school. Different colleges have different requirements but you can always visit the websites of the colleges you are interested in to see their current entrance requirements.
You will also want to check with your high school counselor to be sure that you are taking all the high school courses that are required for college entrance.
And finally, you will want to be sure that you do your best to prepare for your college entrance exams. This will include the PSAT during the fall of your junior year and the SAT and ACT during your senior year. You can get help preparing for these exams on the College Board website or search the web for one of the private companies that offer exam preparation courses.
2) Keep Building Your Skills
Depending on your school, playing on your high school team can be invaluable for gaining experience in competition and for establishing tournament stroke averages.
But, more and more, college coaches are looking at player results and ranking from competition outside of high school. This puts added importance on playing in local, regional, state and national level tournaments.
Consider joining and playing on one or more of the popular junior golf tours in your region as well as some national events. The most noticed by far is the AJGA –it is said to be the single best way to get exposure to coaches, especially if you want to earn a full scholarship.
You can find current information on other junior tours by signing on for the online Ping Golf Guide. This guide is also loaded with information to help you get ready for college golf.
Different coaches look for different things in a player, some of which can depend on the coach's own personality and philosophy, as well as the specific needs of his or her team at that time.
To get an idea what scores you need to post to be considered by various colleges including NCAA, NAIA, and NJCAA schools, you can sign on for the most recent on-line Golfstat Prep Report.
Believe it or not, coaches do look for more than low stroke averages and top finishes and high rankings.
Based on our many interviews and work with college coaches, we find great coaches are also watching for:
how you manage your emotions
tough-mindedness under pressure
ability to remain focused
maturity and self-sufficiency
how you manage tension
You may recognize that these are 5 of the 8 Champion Personality Traits that we discovered through our studies of the PGA Tour and LPGA Tour players.
Improving your mental skills is absolutely necessary for you to perform in competition and in front of those coaches when they are scouting for players. The bigger the tournament and the more coaches watching, the harder it will be for you to perform like you know you can, if your mental skills are not strong enough.
If you feel you are weak in any of these areas take steps to strengthen them well before your junior and senior years when you know you need to perform. Our Mental Game Builder Package of online products including our Mental Skills Assessment and Champion Personality Traits Comparison will help you build that strong mental game so you can perform when they are watching, when it matters.
To get your Mental Game tuned up fast, our Level I Mental Game Builder weekend school includes the Mental Game Builder Package and will give you 15 hours in class and on the course working with us in person to really tune up your mental game. Includes the use of our Mind Meter all weekend too. Limited to 4 players, this school is ideal for Junior Golfers, 14 and up.
Improving your mental game is the fastest way to improve your performances. We have had many players shoot some of their personal best scores the day after attending the weekend schools. Mental instruction will not hurt your play like physical lessons or quick fixes can.
The college coaches cannot ask you to provide them your Champion Personality Profile Comparison for golf but they will be impressed if you do. Getting the Mental Game Builder Package and attending a Level I School will stand out on your golf resume. They show that you know how important the Mental Game is and are working to improve yours.
Finally, you will want to use one of the many available online services that allow you to post your stats and golf resume, like Junior Golf Scoreboard.
3) Stay on Top of Application & Recruiting
If you haven't already, during your junior and senior years you will want to start making "unofficial" visits to the top colleges on your wish list.
Begin communicating with coaches at the colleges topping your wish list by calling or e-mailing so that you can introduce yourself, or schedule an unofficial visit. Frequent emails about your progress, including successes and failures with what you learned from them will show your interest and effort to improve, motivation. They will help the coach get to know you.
If you call the coach and leave a message, do not expect a return call. NCAA rules prevent this unless it is after July 1st and you are a senior. If the coach does not answer the phone, just keep calling until you can connect and schedule your visit.
Keep in mind that NCAA rules allow coaches to meet with prospects and their parents at any time as long as the meeting occurs on campus.
Tip # 4: Stay Realistic but Optimistic!
As you do your best to win a golf scholarship, stay realistic. Here are the numbers.
For the Men
At the Division 1 level, 301 universities have golf teams for men. There are 4.5 scholarships available per team that can be divided. That makes a total of 1354.5 scholarships that can be divided for men at Division 1 schools. Teams carry from 7-12 players. Only a few leave every year.
At the Division 2 level, 208 universities have golf teams for men. There are 3.6 scholarships available per team to be divided among the players. A total of 748.8 scholarships are offered for men in Division 2 schools.
For the Women
At the Division 1 level, 256 universities have golf teams for women. There are 6 scholarships available per team. A total of 1536 scholarships are offered to women.
At the Division 2 level, 139 universities have golf teams for women. There are 5.4 scholarships available per team to be divided among the players. A total of 750.6 scholarships are offered to women in Division 2 .
The point is, there are far more great golfers than there are available scholarships. Your commitment to the steps outlined here will greatly increase your odds of winning a college golf scholarship.
Keep in mind:
it is more likely that men will sign for at best a half or partial scholarship their first year
depending on overall performance, a recruit might not even be considered for a full scholarship until junior or senior year
if a player is recruited but no scholarship money is available, it is advisable to at least request money for books to secure a more "official" space on the team
And finally, if you do not get recruited by the 4 year schools don't be disheartened. You could still go on to have a great college golfing experience, and earn a scholarship by giving serious consideration to quality 2 year schools. Consider this quote from a respected NJCAA coach.
"A large percentage of my players have transferred to 4-year universities after graduating with their AA degree and have continued their college education and golf careers, many receiving college golf scholarships to pay for their education.

The transition from a 2-year school to playing at a 4-year college is quite easy due to the competitive schedules we have during the year mainly competing against 4-year universities.

The exposure my players have received to the 4-year level coaches while competing in these events is exceptional. I have had numerous success stories including players winning national championships at the NCAA level."
Tip # 5: Keep It Fun!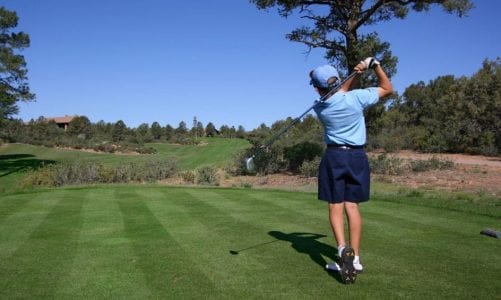 In closing, stay pro-active and keep your efforts to win a college golf scholarship fun.
Just like on the golf course, put your energies into the things you can control, let go of the things you cannot control, and take pride in the fact that you are giving your best.
– Good luck!
Please contact us is you have a particular situation or challenge or are just lost about what to do. We want to help.
Articles currently posted include:
How Many Junior Golf Tournaments are Too Many?
Tips for Parents of Struggling Junior Golfers
Make the Most of Your Window of Opportunity
Important message for our readers: Our goal is to provide you general information and advice on all subjects covered at GolfPsych.com and is not to be used as a substitute for any professional service, including medical, psychological, legal, financial, etc. For individualized expert advice or assistance we encourage you to seek the services of a competent professional. The authors specifically disclaim any liability or responsibility for loss, injury or damages, personal or otherwise, which are allegedly incurred as a consequence, directly or indirectly, of the use and application of any of the information on this site.