Parents often wonder which sports are the best for their kids to start playing. Sports are a great way to make friends, teach valuable life lessons, help them get rid of excess energy, and offer a lot more to the development of a child. Whether you are a parent searching for the best sport for your child, or an aspiring junior golfer hoping to take your next step in golf, this article will help explain why golf is the best sport for kids to play.
If you are a competitive junior golfer, you probably already know that you have chosen an awesome sport. It can be both fun and challenging for your entire life! If you are like most juniors golfers, one of the reasons you chose your sport is because you are good at it, and because it feels so great when you hit a shot well. Here are some reasons why a lot of golfers chose their sport:
They live near a golf course
They love being outdoors
They love being on a golf course or on a golf team
They love all the challenges of playing golf
They love to practice and learn new ways to get better at golf
They love competing
All of these tend to describe people who are naturally driven to play golf. Still, there are a lot of people who aren't as naturally interested in the sport. If you're looking for reasons why golf is the best sport to start playing as a kid, here are some reasons that apply to everyone.
Golf Teaches Patience
One of the best parts about golf is that it teaches patience, which you can't say about most sports. Golf is a slower game that requires intense focus and precision. These are great traits to teach your child. Sports offer a great avenue for teaching lessons such as patience because they are done in a fun way.
No kid naturally wants to be patient, but when they learn patience through a fun activity like a competitive sport, it is a life lesson that they don't realize they are learning. In this way, kids gain the trait of patience without having to be told to be patient. Waiting for their chance to hit and being respectful during others' shots help teach this.
Learn Teamwork and Independence
In golf, you learn both teamwork and independence which are both valuable traits to know in life. It is often said that sports teach life lessons, and this is generally true. But it is rare for a sport to teach both of these traits. Junior Golf relies quite a bit on team play, although your own performance is also individual. While you win and lose as a team score, there are also incentives for individual play, and a great golfer won't be dragged down by poor teamwork.
Playing on a team helps to gain friendships and camaraderie. A child will learn to cheer for their teammates, rely on others, and get along with others. At the same time, they are expected to perform to the highest of their abilities.
Requires Hard Work
All sports require hard work, but golf is a little different. Many sports benefit those who are naturally athletic. People who are tall, fast, or strong as soon as they can walk have a huge advantage, and people have to work extra hard just to play equally as well as them. This can be discouraging, and makes it harder to continue to college athletics based on work ethic alone.
While golf certainly takes athleticism, technique and skill have a much greater influence than in most sports. Hard work is rewarded by good play on the course.
There are a lot of Opportunities for Advancement
It is a dream of many parents to see their child continue to play their sport at a high level. In golf, there are an abundance of available scholarships, particularly for young women. This means a greater likelihood that a junior golfer will be able to continue their sport to the NCAA level and perhaps beyond.
For most sports, the odds of getting a scholarship are incredibly low. While it is far from easy to get a get scholarship, they are more available than in most sports. Check out our post about Women's Golf Scholarships going UNCLAIMED to learn more about this.
You Can Play it Forever
Everyone knows this about golf, but it shouldn't be passed over. Golf is a sport that you can play throughout your life, so getting into the habit of playing it as a child makes it a great life-long hobby. Senior tours exist even at the highest level for golf, and great handicaps and accommodations exist to allow people to enjoy the sport even after retirement.
Golf is Pretty Safe
A lot of sports carry the risk of injury. Popular sports like football is proving to have lasting negative effects on people, and even sports like baseball have seen life altering injuries after getting hit in the head with a pitch.
Golf injuries can certainly occur, but they don't have the same long lasting ramifications that you can see in some sports.
Great Resources Exist to help Performance
There is an abundance of great resources to help people along the way learn how to golf. This means that you'll never be unsure of how to progress or improve. This takes out some of the guess work that you see in other sports.
Check out our hub page for all our junior golfer tips and recommendations for more.
These are all reasons specific to golf. There are a number of other reasons to play golf that can be generalized to all sports that we left out because they aren't unique. These include: sports keep you busy, help release energy, they boost self-esteem, help strengthen character with proper coaching, teach healthy lifestyle choices, and give opportunities for life long friendships.
Not So Great Reasons for Playing Competitive Golf
Clearly there are a lot of great reasons that make golf the best sport for a kid to start playing. Still, we should be clear about what to watch for as reasons to not play competitive golf. These are usually learned traits that might develop over time. Note that we did not include "it's fun" in the above section about reasons to play competitive golf. Clearly we think it's fun, but people have their own opinions. If you aren't enjoying the sport and play golf only for the reasons below, it might be best to find a different sport.
Many Junior Golfers get into trouble when they start playing golf for "faulty" reasons. These "faulty" reasons can make golf lots of work and not much fun. Sometimes Junior Golfers sort of "grow" into playing for these "faulty" reasons and may not even realize they are doing it. What they do know is that they are not playing as w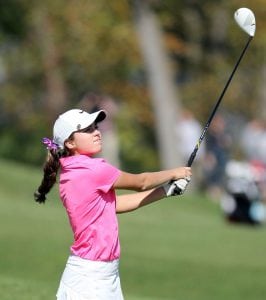 ell. And it is really hard to figure out why. Do you or your child play golf for any of these reasons?
Only to make your parents happy
To impress your friends
To get out of school
Only to get a college scholarship
To get your name in the paper
Because you always played golf and you feel you should
Because your parents have spent so much money and time on your golf
Because you feel pressure to keep up with a brother or sister who plays
Because it is the only way you can get attention from, or time with a parent
It is not that you cannot play golf for any of these reasons, it is just that if they become your main reason for playing, you will not play as well and certainly won't enjoy it.
Tips for Playing Your Best if you Choose to Play
It is our goal to share with you all the things we have learned from the pros that will help you play your best junior golf. We will be reminding you to play golf for the best reasons, and giving you tips to help you play your very best in competition.
You will find great tips for reducing your stroke average. And steps for solving all kinds of problems that competitive junior golfers face, including managing anger and keeping your cool when college coaches are watching.
We look forward to being a part of your team! Remember we are here 24/7. Bookmark us and check in anytime you need a quick assist with your pursuit to play your best… and reach your loftiest of goals as a competitive junior golfer!
P.S.
One of the greatest things you can learn as a Junior Golfer is how to enjoy the good times (that's easy!) and to learn the most from your challenging times (that's not easy!) This valuable skill is practiced by the best golfers in the world and we hope to help you learn that skill too.
Good luck!
Please contact us if you have a particular situation or challenge or are just lost about what to do. We want to help. Leave a comment if you agree that golf is the best sport for kids to play or to start playing before adulthood.
Articles currently posted include:
Tips on Earning a College Golf Scholarship
Tips for Parents of Struggling Junior Golfers
How Many Junior Golf Tournaments are Too Many?
Is College Golf the Best Path to the Tour?
How To Make the Most of Your Window of Opportunity
Important message for our readers: Our goal is to provide you general information and advice on all subjects covered at GolfPsych.com and is not to be used as a substitute for any professional service, including medical, psychological, legal, financial, etc. For individualized expert advice or assistance we encourage you to seek the services of a competent professional. The authors specifically disclaim any liability or responsibility for loss, injury or damages, personal or otherwise, which are allegedly incurred as a consequence, directly or indirectly, of the use and application of any of the information on this site.