The ability to block outside distractions, especially those found in competitive play, is one of the most important mental skills in golf.  In order to improve mental focus, knowing more about yourself is the first step in making adjustments. Whether you're introverted or extroverted has an effect on how easy it will be for you to achieve optimum focus.
The 8 Personality Traits of Champion Golfers
Our first study of LPGA players was in 1981, where we discovered that there are 8 personality traits (out of 32) where the frequent winners on Tour measure differently from the other Tour Pros. Follow up studies in 1989 and 1990 on the PGA Tour and Senior PGA Tour players found the same 8 personality traits for the frequent winners. We have been able to map where the champions score consistently on our personality assessment.  These ranges are the darker green in this sample report. The first of these championship traits relates to focus, and is on a scale from "Cool, Narrow Focus" to "Warm, Wide Focus."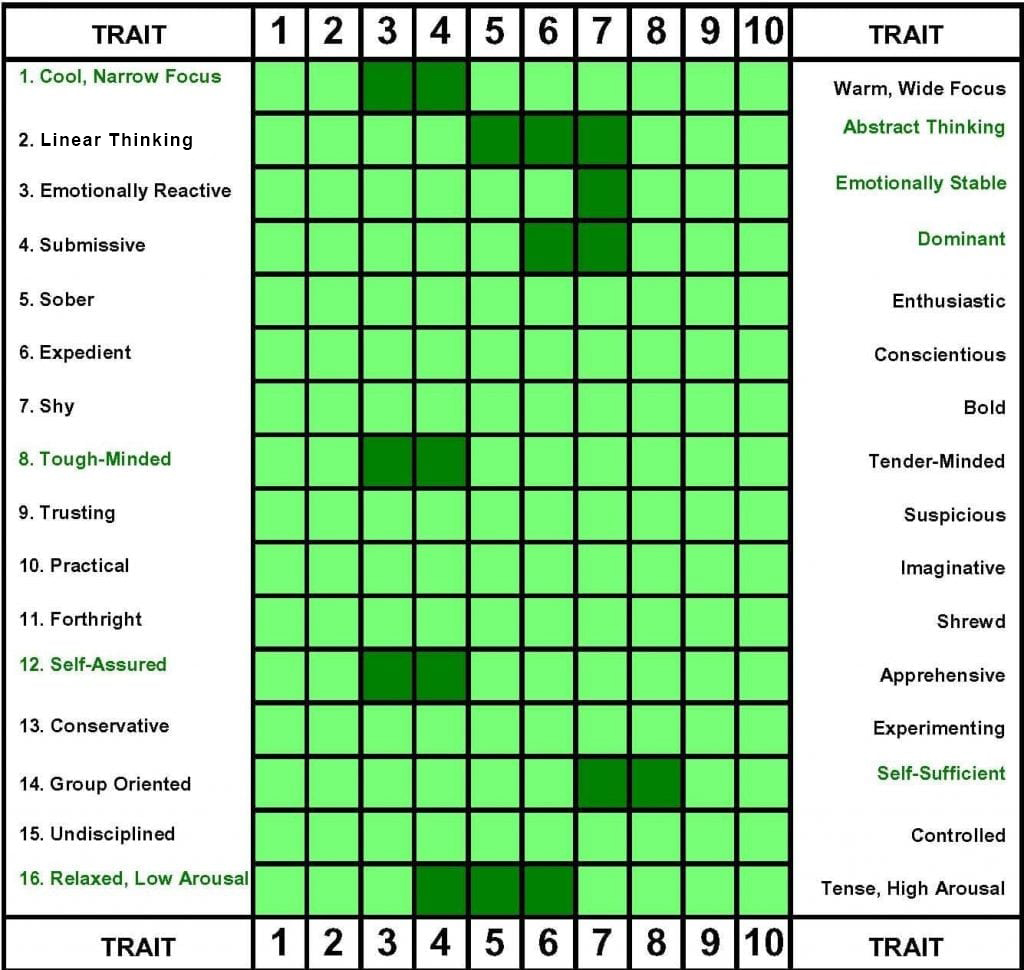 *COOL, NARROW FOCUS
This important trait is an indicator of your ability to separate yourself from people and circumstances during competition, becoming more internally focused. You not only need to take your focus inward, separating yourself from people; but you also must narrow your focus, keeping your thoughts simple and on performance. While over the ball your attention and thoughts should be purely and simply on hitting the shot.
The more extroverted you are, the more you need mental techniques for narrowing your focus. The more introverted you are, the more techniques you need to open your focus and take your mind off the round between shots.
If your focus is too wide, you must then learn techniques to narrow your wide field of attention to a very small one – something like you do when you tune out a room full of noisy people to focus on television. The better you are at not noticing what is going on in the room, the better you are at detaching and narrowing your focus. Introverts generally have an easier time detaching and turning their attention inward, but they may have an equally difficult time narrowing their focus to tune out the irrelevant internal thoughts while competing. When you have attained this trait for competition, you will be able to detach and play without being distracted by external or internal factors.
Remember that you must both detach and narrow your mental focus before hitting each shot or putt.
The ideal measure for competition is: 3-4
Improve Mental Focus in Golf
Don't worry about the people around you, the heat of the sun, how well you performed on the last hole, or how others have performed. Simply set your mental focus inward and pay attention to what's in your control. It is best to detach your focus before and after hitting your shot. This helps minimize tension, allows you to strategize effectively prior to your shot, and lets you to hit the ball effectively.
If you need assistance improving your focus over the ball, we can help. Check out some of our weekend golf schools or check out the rest of our offers.
Learn to think and focus like a Tour Champion.
Dr. Deborah Graham and Jon Stabler have helped Tour Pros and thousands of Competitive Golfers like you find consistency, improve mental focus, and build confidence using their Golf Psychology System and Tools. Find out how you compare to the best players on tour with our 8 Champion Personality Traits for Golf Assessment and Advice.  A 42-page report with recommended methods based on your individual personality.